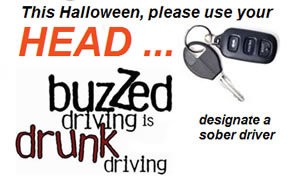 This Halloween, let's make happy memories, not tragic nightmares. The only thing scarier than zombies and witches loose on the streets is a drunk driver. This year, the U.S. Department of Transportation's National Highway Traffic Safety Administration (NHTSA) is teaming up with the Grand Isle County Sheriff's Department to help spread the message that Buzzed Driving Is Drunk Driving. Even one alcoholic beverage could be one too many for some drivers, so if you plan to drive, plan to refrain from alcohol. If you do plan to enjoy some witch's brew, be sure to arrange a sober ride home in advance. Stay safe on Halloween night, and every night.
Read these scary stats and commit to sober driving.
According to NHTSA, there were 37,133 people killed in motor vehicle traffic crashes in 2017, and 29 percent (10,874) of those fatalities occurred in a crash in which a driver had a blood alcohol concentration (BAC) over the legal limit of .08.
During the Halloween night (6 p.m. October 31 to 5:59 a.m. November 1) during the years 2013-2017, there were 158 people killed in drunk-driving crashes.
During Halloween night from 2013-2017, 42 percent of those killed were in traffic crashes that involved at least one drunk driver.
During the 2017 Halloween night (6 p.m. October 31 to 5:59 a.m. November 1), there were 11 vehicle occupants and three pedestrians killed in drunk-driving crashes.
Those under the age of 21 had the highest percentage (45%) of fatalities in drunk-driving crashes on Halloween night in 2017.
Drug-impaired driving is an increasing problem on our nation's roads. It is illegal to drive while drug-impaired, period. It's essential for drivers to understand: If You Feel Different, You Drive Different.
Don't let plans get away from you — it's imperative to your safety and the safety of others to plan a responsible ride home from the party. If you leave your house unprepared to get home safely, you may not make the best choices by the end of the night. Here are a few tips to help you prepare for a safe night out.
Remember that it is never okay to drink and drive. Even if you've had only one alcoholic beverage, designate a sober driver or plan to use public transportation or a ride sharing service to get home safely.
If you see a drunk driver on the road, contact the Grand Isle County Sheriff's Department.
Have a friend who is about to drink and drive? Take the keys away and make arrangements to get your friend home safely.
High visibility enforcement has been the key to success in Grand Isle County evident in minimal law enforcement response to serious injury crashes or fatalities.  Please continue to help us prevent senseless tragedies!